Meet Our Top Coaches
Meet coaches who will
change your career trajectory
I'm sure you've heard this time and again - "Good coaching can really do wonders". Good coaching comes from great, top notch coaches.

At Upraised, coaches are industry leaders that have succeeded at top companies and are here to give you personalised coaching spanning months to help get to your ambitious goals faster.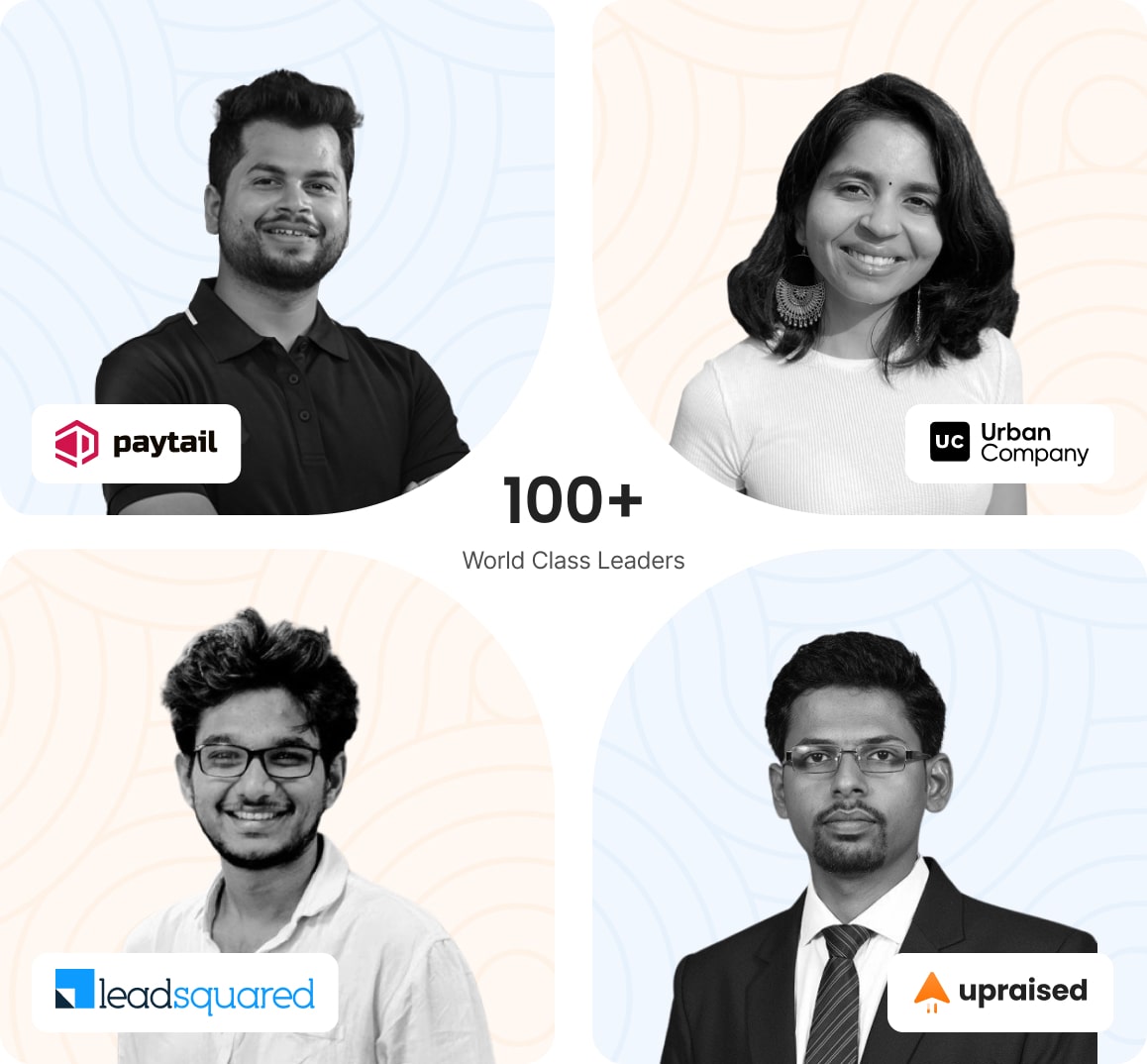 We only invite industry leaders who have succeeded at top companies
Meet Our Coaches
Get personalised coaching
from
world-class leaders
Get Guidance from Successful Professionals. Benefit from the Expertise of Accomplished Leaders
Siddhartha Roy
Director - Product - Swiggy
Expertise in


Expertise in

Siddhartha is Director of Product Management at Swiggy with 7 years of experience in building and scaling digital B2B & B2C products . The products he has built include a DMP, a full scale news OTT & an industry best payments infrastructure for India's largest music streaming company. He was the Director of Product at Jio Saavn. He is an Electrical Engineer and completed his MBA from Indian Institute of Management, Ahmedabad.
Himanshu Agarwal
Senior Product Manager - OLA Electric
Expertise in


Expertise in

Himanshu is a product leader with 8 years of rich experience in product management and building startups. From starting company in college to raising 2 rounds of funds for his SaaS startup and currently leading vehicle commerce product at OLA electric he has done it all. He has experience in industries like e-commerce, health-tech, SaaS, Social network, retail, logistics and ed-tech. Along with product management expert he is a PM coach and influencer who regularly share wisdom on Linkedin where he has been selected as one of the India's top content creator. He aspires to infuse the growth mindset in folks from the community so that we can build great products for the global audience.
Himankini Shah
Product Manager - Meta
Expertise in
Expertise in
An experienced Product leader, Himankini Shah is currently leading the strategic vision for a portfolio of recruiting products at Meta. Prior to this, she worked with Amazon where she led scientific solutions in the Compensation space. Prior to that, Himankini worked as an Office 365 Consultant at Microsoft, where she led and managed more than 250 engagements with Microsoft Gold and Silver certified partners successfully receiving several appreciations. Himankini has carried out over 100 interviews and has coached over 20 people throughout her career. Beyond work, Himankini enjoys traveling, table tennis, and is an avid reader.
Yatharth Bansal
Senior Product Manager - Uber
Expertise in


Expertise in

Yatharth is currently working as a Product Manager with Uber, looking at expanding Uber Grocery Business globally. He has 9+ years of experience in product management across B2B and B2C. He has worked in Edtech, Adtech and E-commerce space with different sized companies ranging from Series A (100+) to Public companies.
Vipplov Choudhary
Senior Product Manager - Zalando
Expertise in


Expertise in

Seasoned Product Management professional with 8+ years of experience; Worked with organizations in the consumer internet & e-commerce space - Zalando, Flipkart, AJIO, Ola; Shipped native mobile apps and platform products to drive conversions, growth & business efficiency; Launched new businesses; Love solving for problems at scale
Yash Shah
Product Manager - Slack
Expertise in


Expertise in

Yash is a passionate product manager with over five years of experience leading cross-functional teams to develop world-class SaaS innovations. He is currently working on personalized marketing automation for Slack products. Yash is design-thinking-led and has experience across business, design, and technology. He quickly grasps business processes and problems to drive solutions. Yash led user research and discovery sessions resulting in a customer-centric product. He has launched a Slack Community and Forum Companion App with 50K+ users, a Midas Touch bot that saved the sales team 5,000 hours/month, and developed a marketing automation engine that increased revenue by $5 million/quarter. Yash also launched a win-loss analysis program to understand competitive advantage and product road mapping against competitors in a data-based way.
Tarun Joshi
Senior Product Manager - MPL
Expertise in


Expertise in

Built digital consumer products in 4 different industries - Online gaming (Mobile Premier League), Insurance (Policybazaar.com), Food-tech (Dineout), and Music (Dailybeats.in)
Heta Vaishnani
Senior Product Manager - Microsoft
Expertise in


Expertise in

I love creating elegant things that solve problems and delight people. Product manager with a breadth of experience across consumer and enterprise domains. Delivered market-leading products and business growth for consumers while operating at a high scale & complexity.
Manikantha S
Principal Product Manager - Swiggy
Expertise in


Expertise in

Mani is a highly skilled and experienced entrepreneur and product leader with a proven track record of success. With 7 years of experience in building and managing products, Mani has a deep understanding of the entire product development process. He has worked with companies at various stages of growth, from early-stage startups to established organizations, and has successfully led teams and delivered impactful products. Currently, Mani is using his expertise to drive product development (leading 0 to 1 initiatives) at Swiggy, a company that is making its mark in the food delivery industry. In his free time, Mani is an avid chess player, keyboard enthusiast, and is constantly seeking to expand his knowledge and understanding of the world.
Akanksha Sharma
Senior Product Manager - Urban company
Expertise in


Expertise in

Akanksha is an IIT grad with varied experience in business operations, software development, and product management. She has been working with Urban Company for 3 years and has worked on products in different verticals such as fintech, partner success, international growth, and new user acquisition.
Animesh Chandra
Senior Global Product Manager - Expedia Group
Expertise in


Expertise in

Animesh, a product manager with over 8 years of experience, is passionate about creating products that add value to people's lives. He started his journey by building a successful e-commerce brand while in college, generating five-figure revenues monthly. Since then, he has developed engaging products for top Indian start-ups and multinational companies. Animesh is an experienced problem-solver, with a successful track record of managing the complete product cycle from conceptualization to maturity. He also has a passion for mentorship and has mentored over 50 individuals to break into product management or refine their skills.
Kiran Balaji G
Senior Product Manager - Amazon
Expertise in


Expertise in

Kiran is a Senior Product Manager at Amazon and is part of the Next 100 Million User Acquisition team. He has extensive product management experience working on building user facing products for 4+ years. He has led high impact teams and launched successful products from idea conception to product launch. Prior to Amazon, he was with Flipkart owning the Search Experience and Monetisation charters. He is an Electrical Engineer who has done his MBA from Indian Institute of Management, Ahmedabad.
Anvika Kumar
Senior Product Manager - Curefit
Expertise in


Expertise in

Finding the right problems to solve is what I thrive on. Talking to customers, getting stakeholder buy-ins, and building rapport with my engineering teams sums up my day. Crafting solutions that fulfill user goals is what I iterate on with the help of data and intuition.
Himanshu Shukla
Lead Product Manager - Zomato
Expertise in


Expertise in

Himanshu Shukla is an experienced Product Manager with a demonstrated track record of working with top organizations such as Accenture, Yatra, Flipkart, and Oyo. With nearly five years of experience in the e-commerce domain, he has successfully solved some of the most interesting problem statements and acquired valuable knowledge and skills in the field. His expertise lies in developing and managing innovative products that are user-friendly and meet customer needs.
Debabrata Subudhiray
Staff Product Manager - Freshworks
Expertise in


Expertise in

Deb has about 10 years of experience with more than 5 years of experience in core Product Management. He has worked in various organisations like Freshworks, Kony (now Temenos), Cisco where he has both worked on building products from 0 to 1 and also on scaling an already established product. He is really excited to share his knowledge and experience to help folks break into Product Management.
Rajaguru Kumaravel
Product Manager 2 - Flipkart
Expertise in


Expertise in

Rajaguru is currently a Product Manager (PM) at Flipkart and has a total of 4+ years of product experience with teams across India and Singapore. He started his career as a software developer in Cognizant technologies and joined as an APM in IndiaMART post his MBA to kick start his PM journey. He has worked predominantly on B2C products (search, cart, and lead generation) and also spearheaded 0 to 1 product launches which helped in generating millions of dollars in Revenue.
Accelerate Your Career
Personalised coaching
is the key to
get to your goals
Our personalised programs combine the magic of structured learning with personalised
feedback loops to help you get to your goals in the shortest time possible