An article in Business Today mentioned a study by Oracle in October 2021. According to the report, 97% of people wanted technology to help them define their future by identifying the skills they need to develop. In another survey by LinkedIn done in January 2022, featured on Times of India, we found 23% individuals have greater career ambitions, just like you. There were two major conclusions we could draw out from these articles were:
There are many people who want to transition in their career
There are many people who do not know how to transition
The decision to make a transition in your career can make you feel like you are entering into a new world. With correct guidance, everything falls into place!
In our journey of raising product managers, we came across some interesting stories. We found the journeys of these aspiring managers that show anyone can become a great product manager with the right mentorship.
Have a look at their journeys!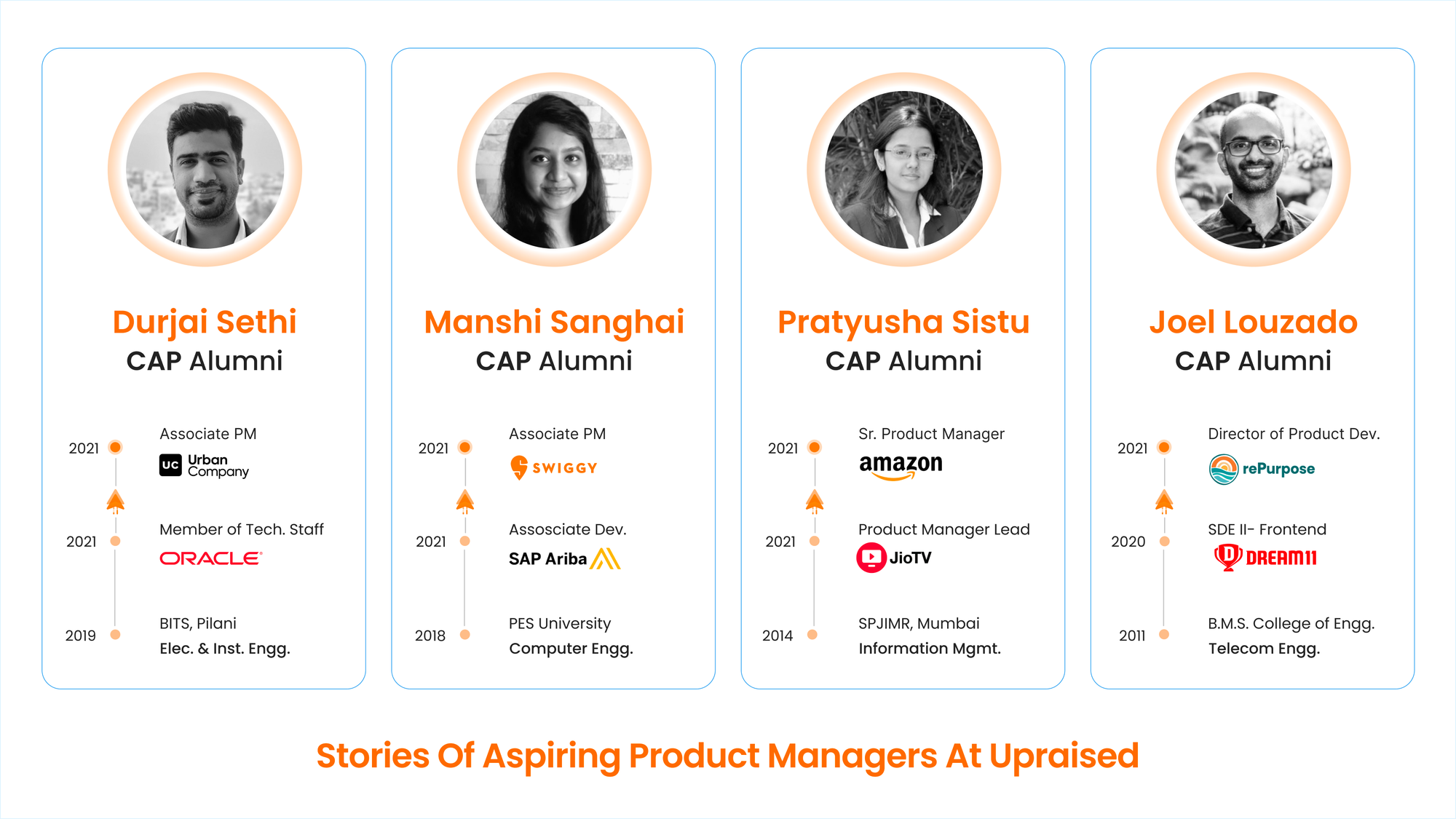 Now, there may be a lot of questions in your mind, like:
What really is mentorship?
What can a mentor help you with?
How does one find a mentor?
Who is the right mentor for you?
When is the right time to find a mentor?
Stay with us and we'll answer all these questions as you read further!
What is Mentorship?
The word mentorship is made of two words, mentor and relationship which means a mentoring relationship. It is a professional relationship between an individual with more industry experience, called a mentor and an individual who is fairly new to the industry, called a mentee.
Mentors pass their industry experience to the next generation and mentees receive the hand holding they need to be better at what they do. Any mentoring relationship is a two way communication which makes this exchange of knowledge and ideas a fulfilling experience and win-win situation for both of them.
One thing to be aware of is that it is not possible to have a forced relationship with a mentor. Mentorship cannot be a single way street or a forced relationship. Having a two way street communication just cements & broadens your scope of learning. This tweet from Kunal Shah, Venture Capitalist, Founder of CRED says it all!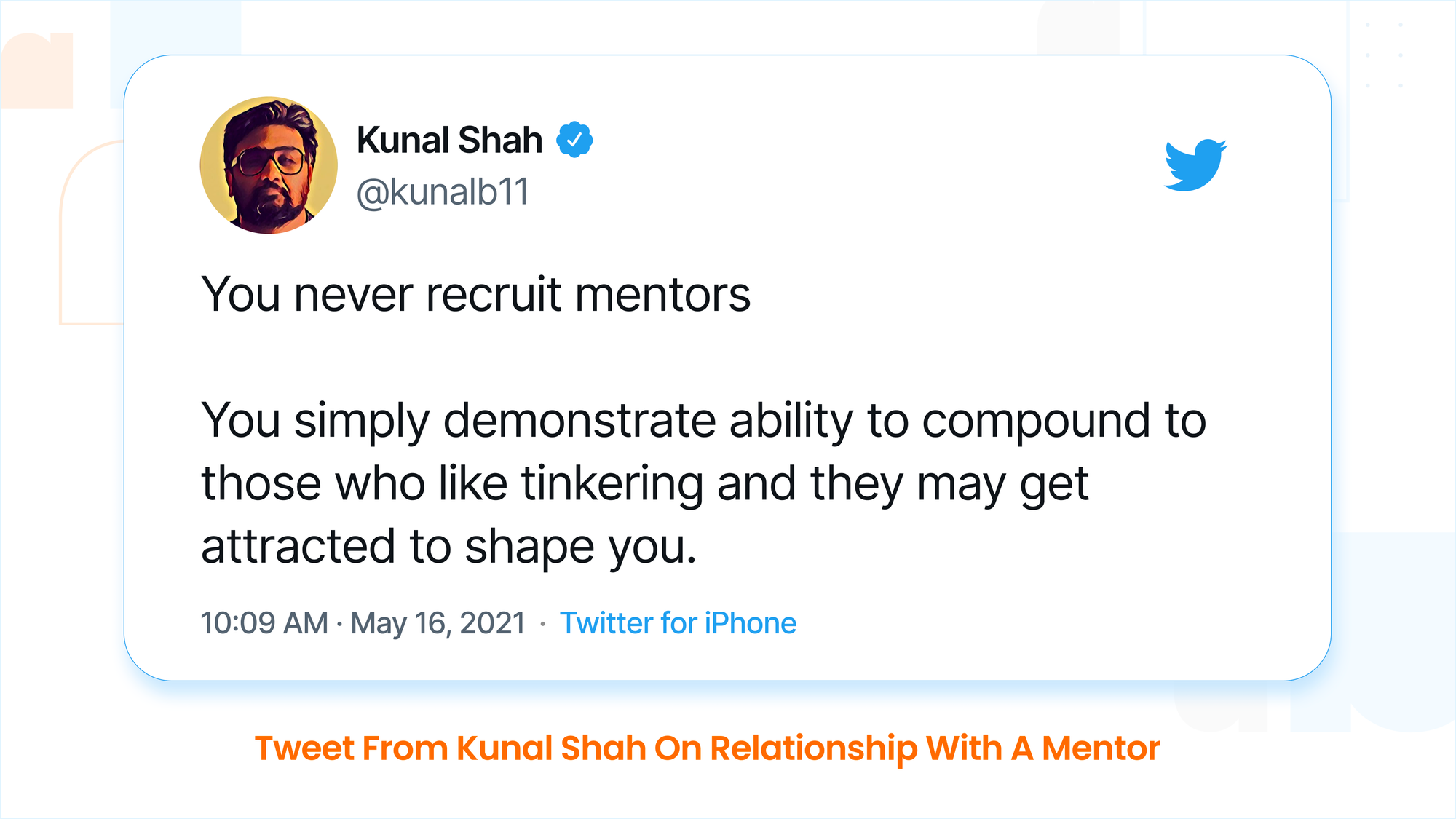 What Can a Mentor Help You With?
As someone who is just beginning a career in product management, you may not know where to look for inspiration. At times it is even hard to know what it means to be building a good product. Mentors help you understand where and how to look for inspiration while building products. This validation from a mentor boosts your confidence. It assures you that you are doing the right thing and looking at the right place for inspiration.
The second important thing to know here is that anything in product management has too many moving parts to it. Having a mentor who you could talk to or get advice from when needed, just makes things a lot easier. This helps you know that there are certain problems everyone faces and you need to accept them in the journey.
Mentors share their learnings, that'll prevent you from repeating the mistakes they made. This allows you to be cognizant of the similar mistakes your mentor spent time discovering and fixing. When you make new mistakes, advice from your mentors can help you make the required course correction. There's no downside of having a mentor ever!
Now that you know the important role a mentor plays, let's find out how you can find a mentor for yourself. Let's deep dive into it!
How Does One Find a Mentor?
Some very important things to note when you find a mentor for yourself are:
Where are you in your career at the moment?
Is your mentor relevant to what you are looking for?
Which industry is your mentor from?
What is your mentor's domain of work?
How far ahead is the mentor in the journey?
Do the conversations feel it can benefit you and your mentor?
Once you have an answer to them, here are a few ways you can find a mentor for yourself.
Reach out to your existing network
Cold reach out on LinkedIn
Become a part of product communities
Join 1:1 mentorship program at Upraised
Attend professional networking events
Reach Out to Your Existing Network
Look out for a suitable mentor among your contacts, current team members or ex bosses. This gives you a chance to meet your potential mentor, grab a coffee and continue the conversation further.
Cold Reach Out on LinkedIn
Have clarity on the industry and domain you see yourself grow. Choose mentors from a similar domain with an age closer to yours. This will help you connect with them better.
Become a Part of Product Communities
Join LinkedIn groups, online forums and online product communities to help you build professional relationships that can evolve into a mentee-mentor bond. Here's a list of LinkedIn groups, product communities and web forums you can join:
Join 1:1 mentorship program at Upraised
We at Upraised , provide you a 1:1 mentorship in our Career Accelerator Program which helps you get high quality feedback. The mentor is assigned to you on the basis of:
Background of mentor, their past experiences & strengths
Your future aspiration & specific product line you want to work on
The program is structured in a way that you will be able to clear all your queries pertaining to a specific topic which making it very personalised. You get a dedicated counsellor from the first day till the day you get placed, strong alumni network and a lifetime career support!
Does that interest you?
You can check more details about the program here!
Attend Professional Networking Events
Attend offline events and meetups to connect with people from your industry. Make a note of people who you feel are suitable to be your mentor.
Check out our latest event on the role mentorship plays to make you a better PM here!
Who is the Right Mentor?
Let's first read an advice from a well known Product Advisor, Shreyas Doshi.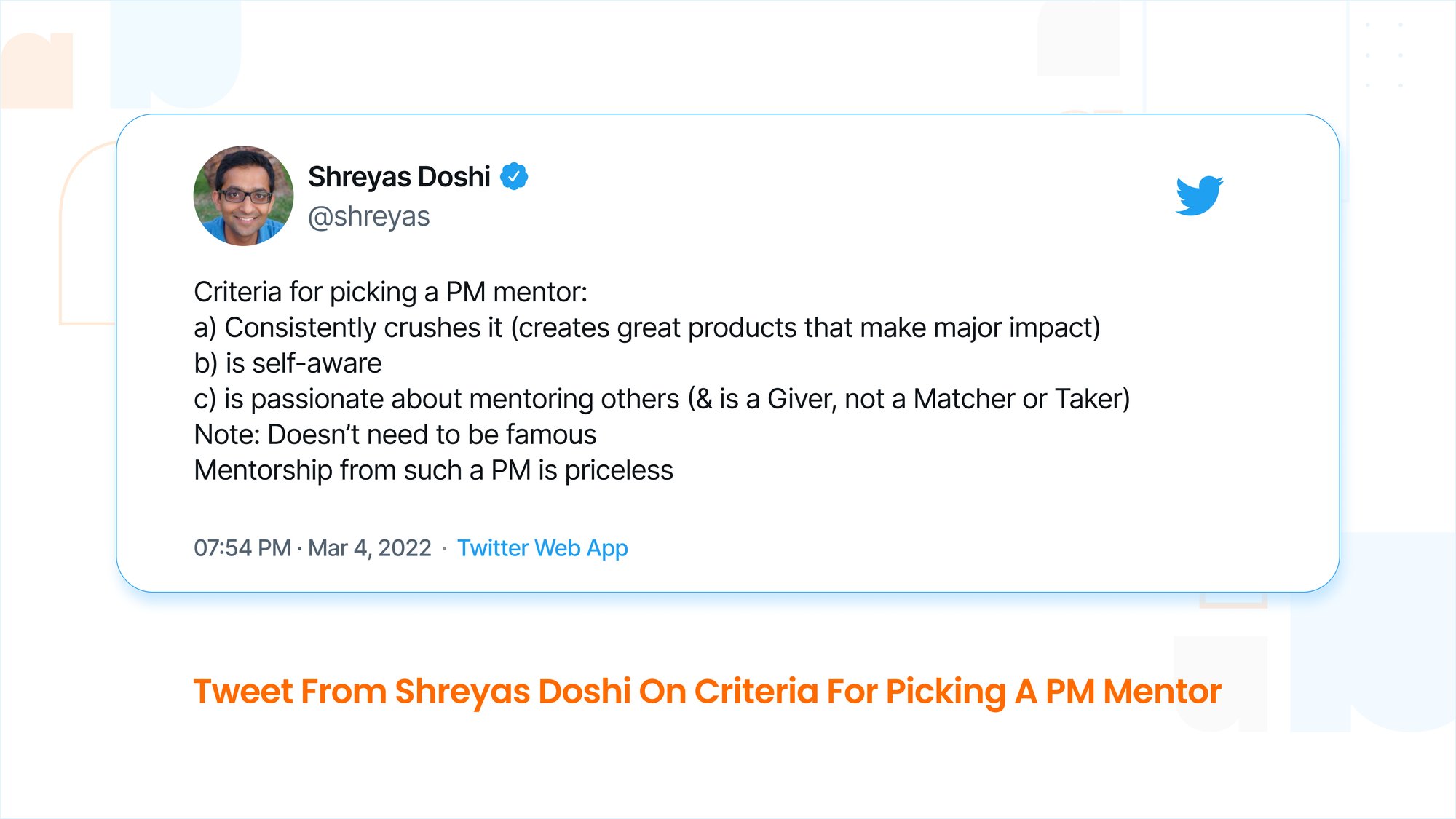 In addition the criteria of mentor selection, here's what you need to know about yourself:
What do you exactly need hand holding with?
What do you want to learn?
You need not categorise everything you need to learn under a broad category or narrow it down to something very specific. It just needs to give enough context to your mentors, to understand where it is you need their guidance.
This secret tip from Shreyas Doshi, will come in handy, we're sure!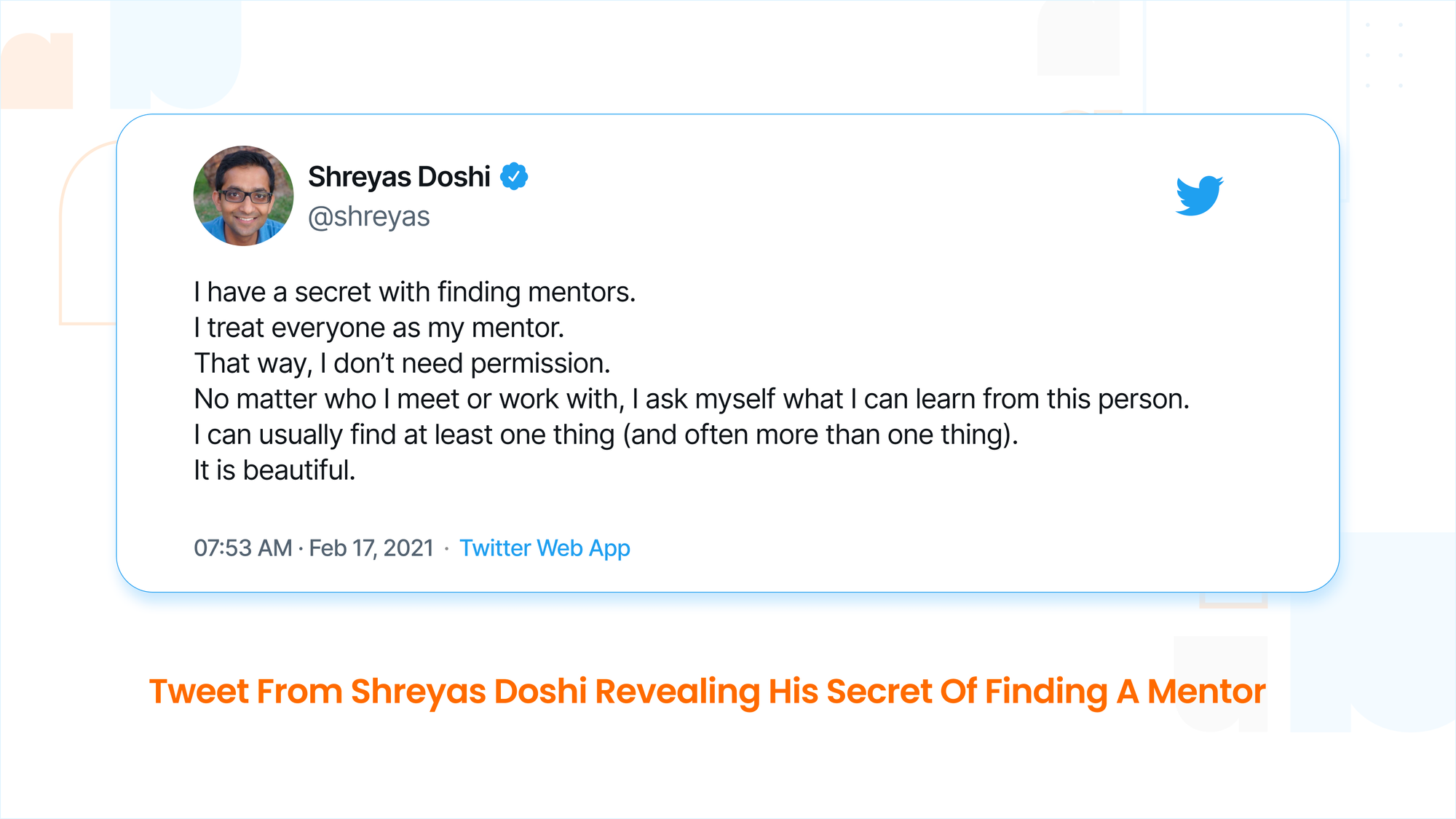 When is the Right Time to Find a Mentor?
The two ways to look at this is:
If you are not a product manager
If you are a product manager
If You Are Not a Product Manager
The right time to find a mentor is when you have made up your mind to transition but are not sure how to do it. Having guidance from an industry expert at that time will open your perspective towards industry in a way you never imagined. Being a part of LinkedIn or PM communities can be helpful here!
If You Are a Product Manager
Once you begin your journey as a product manager, you can feel overwhelmed by the struggles in the journey. Having a mentor at this time who will understand your struggles will make your life easier. Talking to PMs in other communities just brushes off all the thoughts that make you feel overwhelmed.
Resources just for you!
Here's a list of some podcasts and books that can give you an insight into the product management industry.
Books:
Podcasts:
Final Thoughts
Each one of us constantly turns to our mentors when faced with any challenges professionally. So, surround yourself with mentors who share their life experiences and help you understand the side of industry you never knew existed. Having an idea of what the industry is really like and the challenges that come with it, is invaluable. Don't miss out on it!
You cannot become great at what you do without mentors. It's not only us, even Indira Nooyi says so!